Gain independence from your old retirement provider
As July 4th approaches, many folks are gearing up to celebrate Independence Day. Why not do the same for your old retirement accounts?
If you're like many Americans, you probably..
Have an old 401(k) from a past employer
Have a few IRA accounts with legacy providers
Have seen those accounts meaningfully lag the market in recent years
Are unknowingly paying high hidden fees (which can often total to more than 2%) on top of the subpar performance
EXM Retirement Clients are different
Hundreds have rolled over 401(k), 403(b), and IRA accounts into EXM IRAs.

They have grown their wealth +83.7% after fees since Last year (through Q1 2021) through COVID and other market volatility

Most pay a simple 2% annual fee, or even as little as 0% ( yes, zero) after making a few referrals
It's time to gain independence from your old retirement account provider. Join the 500+ clients who've already set up IRAs with EXM Capital. Our Rollover Concierge makes it simple and easy to transfer an account.
If you roll over an old retirement account by July 4th, you'll be eligible for up to $13,000 in rewards.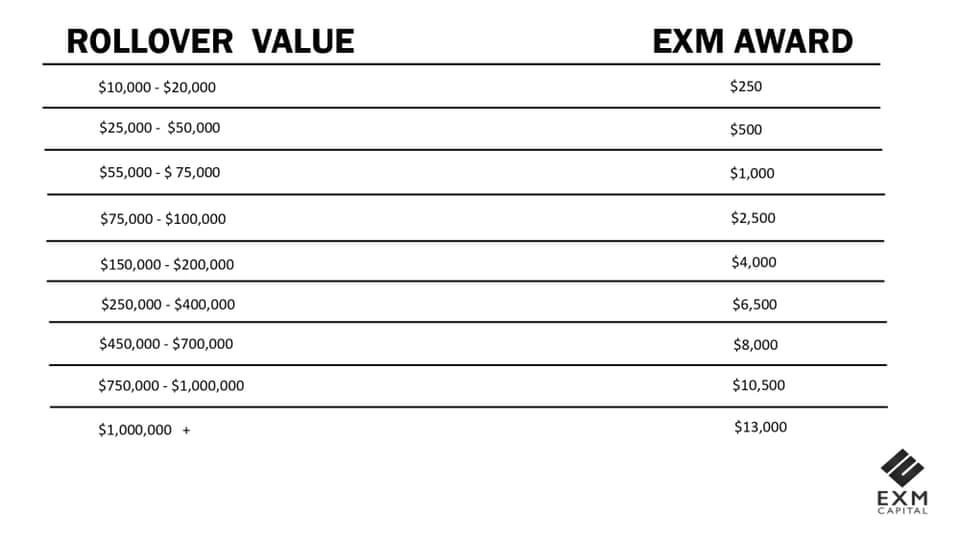 Why EXM Capital for your retirement funds ?
How you invest your retirement savings today can mean a difference of hundreds of thousands of dollars.
EXM clients have seen their accounts gain +83.7% after fees since last year . This is just from our Flagship strategy.
That's greater than every other investment advisor covered by Backend Benchmarking over this time period, by almost 2x on average.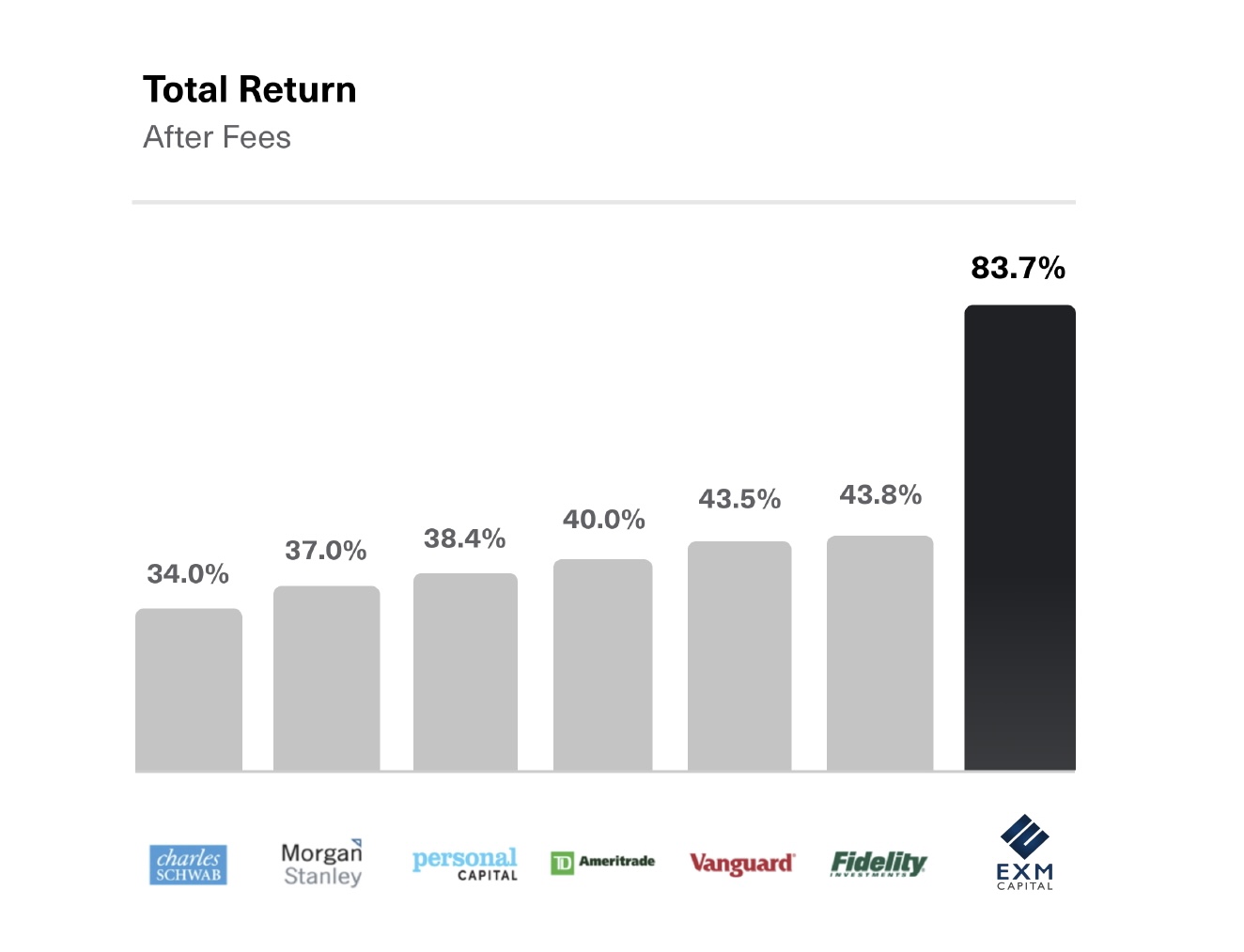 What this means is that over the last year, $200K invested in EXM Flagship would have earned an additional ~$80,000 after fees than it may have if invested in another advisor.
Given the typical multi-decade time horizon that most retirement accounts take, this type of outperformance can make a world of difference.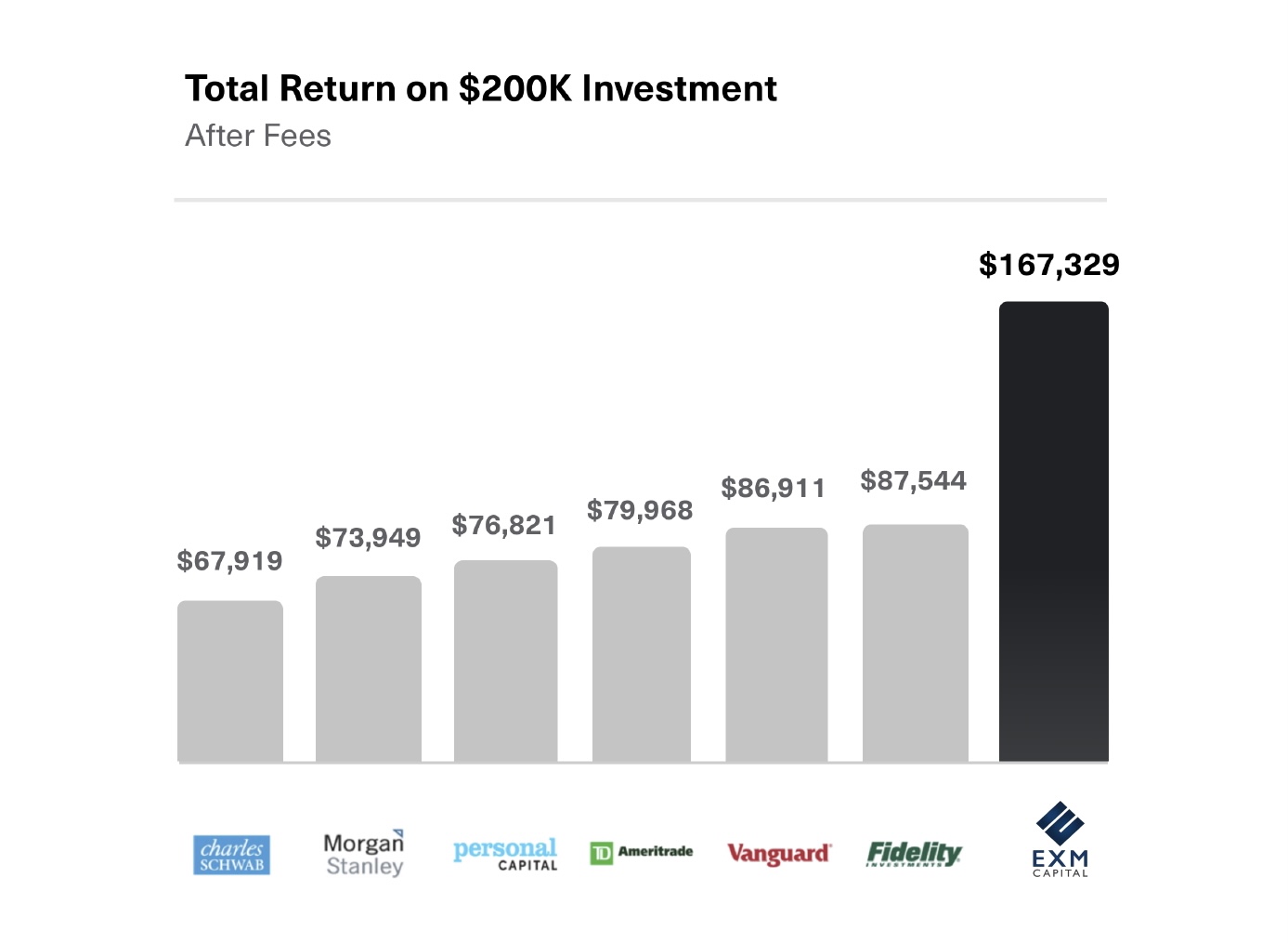 More questions ?
What types of accounts can I roll over?
We accept IRA transfers (Traditional, Roth, SEP, SIMPLE, Inherited), 401(k) rollovers, and 403(b) rollovers.
Can I roll over a taxable account?
We accept taxable account transfers of $20,000+
Can I roll over part of my funds instead of the entire account?
For IRAs, yes. For 401(k) and 403(b) plans, it depends on your plan provider's policy. Ask them if they allow "partial rollovers." If they do, then you can inform them of the specific amount you would like liquidated and rolled over to EXM .
What types of IRAs does EXM Capital offer?
We currently offer Traditional and Roth IRAs. Many types of IRAs and retirement plans can be rolled into EXM Capital Traditional and Roth IRAs.
What is the investment strategy for EXM IRAs?
Your IRA will be invested in a combination of our Flagship, Opportunities and/or Offshore strategies, but you can also choose your own custom mix if you wish. All rollovers go to your EXM IRA's cash balance to start. You can then choose to invest the funds as you'd prefer.
What are the fees for EXM IRAs?
The annual fee structure for IRAs is the same as for Individual accounts
Will my referral credits apply to a EXM IRA?
Yes! Your referral credits will apply to all your EXM assets (Individual and IRA accounts)
Will a rollover result in any taxes or penalties?
No, direct rollovers of 401(k), 403(b), and IRA
accounts do not incur any taxes or penalties.
Will I be charged any fees to roll over my IRA, 401(k), or 403(b)?
No, we do not charge any fees for incoming rollovers. However, your retirement account provider may charge an outgoing fee. Check with them if you're unsure
Do I need to sell any investments in my retirement account(s) before rolling over?
No, we can usually handle this for you (depending on your delivering account provider's rules). We do not charge fees for these sales at EXM Capital . As a reminder, selling your investments is *not* a taxable event because you are selling shares in a tax-advantaged account.
Other questions?
Send an email to Supportdesk@exmcapitals.com, our concierge team will be happy to assist you .